9:00 am (in English)
11:00 am
4:30 pm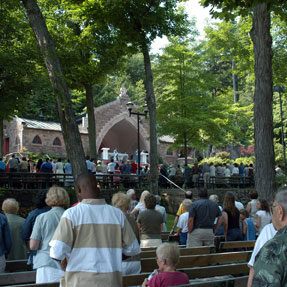 Sacrament of Reconciliation
Before each Eucharist and Upon Request.
Feast of the Assumption
August 15
Masses at 11 am, 4:30 pm and 7:30 pm.
Anointing of the Sick
July 2 and August 27 at 2:00 pm.
Holy Hour of Adoration
Every first Sunday of the month and the final Sunday of the season at 12:30 pm.
Diocesan Pilgrimage and candlelight procession
August 15 at 7:30 pm
Presided by Mgr Noël Simard, Bishop of Valleyfield.
Prayer Offerings by Fire and Incense
All Masses on
September 30 and October 1st.
Accompaniment 
Reconciliation Rooms
Pastoral Consultation
Picnic tables for use throughout the grounds (but no restaurant)
Nature Trail
Rosaries, medals, crucifix, religious images, icons, religious and spiritual books, etc.
Monday to Saturday from 9:30 to 11:45 am and from 1h30 to 4h30 pm.
Sunday from 9:00 am to 4h30 pm.