Little Bernadette had become part of a great event in human history, yet at the time, very few could appreciate the significance of what was taking place.
At the grotto of Massabielle, a place often used to burn garbage on the outskirts of the little town of Lourdes, France, a beautiful Lady appeared 18 times to a young peasant girl, Bernadette Soubirous.
Describing the first visit, Bernadette said, "I beheld within the grotto a glittering cloud of gold; and almost simultaneously there appeared before my dazzled eyes at the edge of the opening just over the bush, a Lady both young and beautiful, beautiful beyond description. She gazed tenderly at me, smiled and bade me come nearer, as if she had been my mother. The sense of fear had vanished …"
The beautiful Lady asked Bernadette to come to the grotto for a fortnight. On one visit, as the beautiful Lady looked upon the crowd that had gathered, tears rolled down her cheeks and her expression turned to sadness.
She asked Bernadette to pray for sinners. It was not the only time the beautiful Lady would ask for acts of reparation and penance. The Lady also requested that people come to the grotto in procession, which meant to come in pilgrimage, to come in prayer.
The Lady asked Bernadette to tell the priests that she wished a chapel be built. On another occasion the Lady told Bernadette to scratch the ground and a spring bubbled up, flowing from the very spot where Bernadette had dug with her bare hands. Astounding miracles of healing occurred when people began washing themselves with water from this spring.
On the Lady's 16th visit, Bernadette asked her name. With a gesture of humility, the beautiful Lady joined her hands, placed them on her heart and lifting her eyes to heaven with a trembling voice answered Bernadette, saying, "I am the Immaculate Conception."
Our Lady's answer reverberated throughout Christendom, as it affirmed the Holy Father's proclamation, made just four years earlier, of the dogma of the Immaculate Conception, a theological question the Church had examined for centuries.
News of the events and the healings taking place at Lourdes rapidly spread throughout France and even around the world. Thousands upon thousands of people came to Lourdes in homage, in pilgrimage, in prayer. A great cathedral was erected and then more large churches were constructed to accommodate the huge number of pilgrims.
As Our Lady had requested, thousands took part in candlelight processions. Devotions, Masses, blessings and prayers were continually offered up and countless healings of the heart and spirit took place as sins were forgiven, faiths restored and trust in God's love renewed.
The little spring grew in volume and continued to flow to newly built baths, made to meet the needs of the pilgrims, and the miraculous healings continued. A railway line was constructed, hotels were built and Lourdes became a much desired pilgrimage destination.
Little Bernadette tried to maintain her simple life in spite of all the activity swirling around her but it was not possible. Being the visionary of Lourdes, she was frequently shown off as if she were a prize. When people recognized Bernadette, she was followed throughout the town. Not only the curious, but virtually every visiting priest, bishop and dignitary sought an interview with her, asking her repeatedly to tell of her experience with Our Lady.
Cynics and skeptics also came to interrogate and harass her, trying to trap her and use her simple, childlike faith against her. Others wanted to touch her, have a souvenir from her or have her bless them. Wealthy pilgrims tried to give Bernadette money and valuable gifts, but she refused them all.
Still there was no escaping the ever-growing crowds coming to Lourdes. Their constant attention caused her much distress and loss of peace, frequently bringing her to the verge of illness. Bernadette had been small for her age and when very young had suffered from severe attacks of asthma. As a child, she also fell victim to the cholera epidemic that had struck the Lourdes area. Thus, Bernadette had always been fragile and was never far from becoming seriously ill.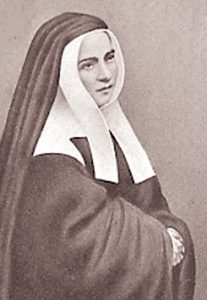 Humble Bernadette did not seek or want recognition, and instead sought to remain unknown. She wished to enter a Carmel Convent but poor health made the demanding routines of the Carmelites unsuitable for her. She was accepted to enter the Convent at Nevers.
For the next 13 years, Bernadette tried to live the life of a simple Sister yet the interviews by visiting prelates continued and Bernadette, now called Sister Marie-Bernard, suffered long periods of illness. Bedridden for months at a time with various afflictions and suffering greatly, she continued to offer, in her own words, "feeble prayers".
When asked why she of all people should not seek the healing that flows from Lourdes, Bernadette answered "it is not for me." As happy and transformed as Bernadette had become during Our Lady's visits to the grotto, Our Lady had told her "she could not promise to make me happy in this life, only in the next."
Near the end of her life, Sister Marie-Bernard endured much pain. Her life became one of continuous suffering, which she endured with unimaginable strength and acceptance, offering it up for the conversion of sinners. "I am happy to have an occasion to suffer" she said, "My happiness consists in being the victim in the Heart of Jesus."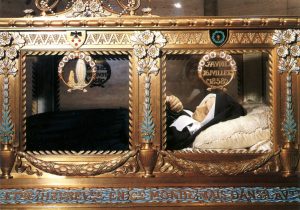 On her deathbed, surrounded by her Sisters praying the Rosary and repeatedly kissing her crucifix, she spoke her last words "Holy Mary, Mother of God." It was April 16, 1879 and she was 35 years old.
Today, 140 years since her death, St. Bernadette Soubirous lies in the chapel at Nevers, incorrupt, more beautiful in death than in life. How great is the love of Our Lord for his faithful ones! Yes, so great is his love that he sent our Blessed Mother to Lourdes, to call each one of us back to himself, since it is only in him that we find true, lasting happiness.
Still today millions of pilgrims flock to Lourdes, France, but the heavenly graces that flow from Massabielle are not confined by geography. Wherever the message of the Immaculate Conception is welcomed, grace flows abundantly, healings continue, hope is restored, lives are changed, kindness and generosity abound.
Let us join with St. Bernadette Soubirous in asking the Immaculate Conception, Our Lady of Lourdes, to continue to grace our humble Sanctuary on the Rigaud Mountain and that all pilgrims who visit here may experience God's love, healing and peace.
O Mary conceived without sin, pray for us who have recourse to thee.
Peter and Linda Krushelnyski
Source :
Voix du sanctuaire 2019 (PDF).
---