By a fiat of Love, God created light, heaven and earth; by Mary's fiat of Love, God became man like us.
Love is patient, Love is kind, Love rejoices in the truth. Love bears all things, Love endures all things, Love never ends, but it can be rejected.  It might have stopped right there and the world might never have known the greatness of God's Love for us. The Love that created the world might have faded away from our memory and we, abandoned to ourselves, to our own selfishness and lack of wisdom, to our own chaos and confusion, would be lost in the cosmos forever.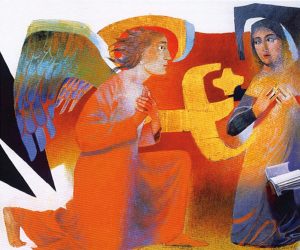 The Archangel Gabriel appeared to Mary, who was living a life of faith and obedience to the will of God, announcing to her the great purpose for which God had chosen her. Mary was not chosen by God because He found her to be the most perfect of women. Rather He made Mary the most perfect of women because
He had chosen her to be the Mother of His Son. It can be said that the salvation of the world began with the words "Hail full of grace". Mary giving her full and free consent: "Let it be done to me according to thy word", was the complete yes that allowed Love to be welcomed into the world God had created. It was Mary's fiat to Love that allowed all creation to be reborn, bringing New Life to a dying world. Thank you Mary!
Mary accepted all with trust, certainly more than she comprehended. Pondering all these things in her heart was the beginning of a new direction in Our Lady's life, but a continuous journey of faith that began with her Immaculate Conception. Our Lady's journey of faith would lead her, though a virgin, to conceive Christ and, as a virgin, to give birth to her child in a cave in Bethlehem.
Her faith journey would see her fleeing to Egypt with her family to escape Herod's murderous wrath and living in obscurity in Nazareth for almost thirty years, sharing the hidden life of her Divine Son. Her faith journey gave her confidence to ask her Son to help a newly married couple at their wedding feast in Cana, but it did not prevent her from worrying about her Son's safety as he began his public ministry. Her faith journey brought her to Calvary where she shared her Son's agony, suffering her own maternal anguish, watching helplessly her Son's unjust, cruel and torturous death by crucifixion. As with every journey of faith, Mary experienced times of confusion, uncertainty, trials and pain, but all were tempered by hope, joy and trust.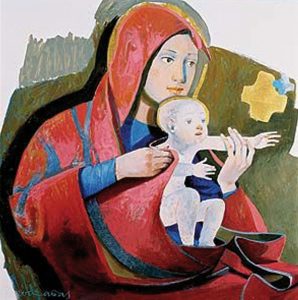 Filled with joy at the beginning of her motherhood, Mary held her young child in her arms. Filled with inconsolable sorrow at the end of her motherhood, Mary held the dead body of her Son in her arms. What had begun as a journey of faith with her acceptance given to the Archangel Gabriel, now drew her deeper into the mystery of the infinite Love of the Holy Trinity.
At the Cross Mary accepted a new motherhood, becoming our spiritual mother, loving us because He loved us first. Her own heart, pierced by a sword, was now opened to draw all children into God's Life. Mary was Christ's first disciple and like the disciple John, we also should welcome Mary into our homes and our hearts.  She was in the upper room with the Apostles on the day of Pentecost, sharing and mothering this mission of Love.
At the end of life, her journey of faith was completed by her assumption into that Life of happiness which we all seek, the joy that knows no ending. From that day until Christ's return, she assists her Divine Son in pouring forth God's graces. We can never think of Mary without Mary thinking of God on our behalf. Neither do we praise and honour God without Mary praising and honouring God in union with us.  Thank you Mary!
And so people have called Mary blessed because God has blessed her and through her fiat, God's mercy has washed down from generation to generation. Yes, God has done marvelous things and her Magnificat overflows from a heart filled with gratitude, as still today, gratitude wells up in the hearts of the countless souls who have been blessed by Our Lady's intercession. Through the prayers of Our Lady, the world is filled with those who have found the peace that the world cannot give.
The joy of knowing God loves us instills in us a longing to know Him better and love Him more perfectly. To this end, Our Lady is the bearer of many gifts and graces, not the least of which is the Rosary. Whether a great theologian with vast learning or a simple child with beads in hand, each praying the Rosary, led by Mary, enters more deeply into the life and love of Christ and begins to climb the spiritual staircase out of human weakness. Thank you Mary!
There is certain knowledge of God buried deep within each of us, as deep and real as our need for happiness. The road of life challenges our hearts long before it tests our wills. Every day we are faced with choices that lead to a destination that is either awful or awesome. These are choices we either accept with hope or flee from in terror. Mary knows we are born with broken hearts into a world raging with strife. Our Lady wants nothing for herself but everything for her children. She brings us to Jesus that He might protect us and bind our wounds and that we might choose to walk with Him. Thank you Mary!
Everything the Son asks of the Father is granted. Likewise, everything our Blessed Mother asks of her Son is granted. Our Lady has appeared in this world, this battlefield, this valley of tears many times to bring healings, messages of warning and of comfort, hope and courage.
She reminds us that we are not alone, that God's Love remains close to us. Mary inspires us to seek shelter under her protection and many sites around the world have become sanctuaries, places of pilgrimage, refuge and renewal. Our Lady of Lourdes Sanctuary on Mount Rigaud is one such place. Thank you Mary!
Every year, thousands come to Rigaud, some pilgrims, others tourists. The Sanctuary, following the example of Our Lady's humility, offers itself to everyone, knowing that God reaches out to all. It is both a beacon and a refuge. It is a beacon because it faces onto the world and is part of the world, witnessing to the truth that God is calling us, and that grace can be found here.
It is a refuge to those who have heard God's call and seek solace. Many visitors come to immerse themselves in the ambiance, the beauty, the sanctity of Our Lady's Sanctuary. At Lourdes often one feels compelled to prayer, to forgetfulness of self, to reflection, touched by grace and called to conversion. Thank you Mary, Our Lady of Lourdes!
Yes, Lourdes is a beautiful place, especially because Our Lady is there waiting to lead each one of us closer to her Divine Son, Jesus. Thank you Mary!
We thank also the Saints, too numerous to cite, whose words have inspired this humble article.
Peter + Linda Krushelnyski
---